About Us...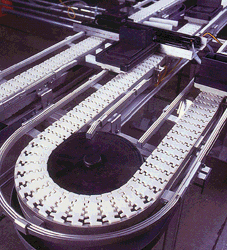 Founded in 1968, WHM Equipment Company has developed broad leading-edge expertise in conveyors systems used to move and manipulate product.
We work with conveyor systems of all types, but the essence of our service to you is the ability to solve your conveying needs.
Our expertise is in the development of concepts that can be efficiently engineered into workable solutions to your process needs.
We Provide Creative Solutions



Expert design and technical personnel to concept and build advanced systems
Components are sourced from a variety and conveyor accessory manufacturers in building integrated solutions
We take your project from concept to testing and installation
A Complete Line of Flexible Conveyor Options

Many of our designs are used by manufacturers, packagers, distribution centers, assembly lines, process lines, machining centers, transport companies and many more industries needing to move durable or consumer goods from point A to point B.
Extensive Manufacturing Facilities

Extensive production facilities allow setup and testing of many conveyor systems as well as house an inventory of stock components.